AndACTION

Ahmedabad, Gujarat, India
The city of Ahmedabad is a field condition where battles for a more just city are constantly taking place. Throughout history, several activist movements, organizations, and individuals have taken to the streets of Ahmedabad for their fight. This staging set the scene for larger project,
In[di]visible Voices.
---


︎ SABARMATI NAGRIK ADHIKAR MANCH

The Nagrik Adhikar rahethan adhikar or housing rights of the slum dwellers who are directly or indirectly affected by the project. Over 30,000 familys living in the slums will be impacted by the development project - the Manch is their voice.

The Manch aims to mobilize "governmentality from below" so that slum dwellers can participate in the production and consumption of information. On December 12, 2005, we marched on the Ahmedabad Municipal Corporation (AMC) and sent a letter to the commissioner demanding proper inclusion of the slum dwellers in the riverfront development and more information on resettlement and
rehibilitation. From 2004-2008, the Manch organized community meetings and participated in several rallies around the displacement and resettlement of slum dwellers under the project.



---

︎ AHMEDABAD TEXTILE LABOUR ASSOCAITION
[Majoor Mahajan Sangh]

The Majoor Mahajan Sangh, or Textile Labour Association [TLA], is Gujarat's oldest labor movement, founded in 1920 through the collaborative efforts of Anasuya Sarabhai and Mahatma Gandhi. Sarabhai decided to get involved in the labour movement after witnessing exhausted female mill workers. She helped organize several strikes, inlcuding one in 1918 demanding wage increase for weavers. Mahatma Gandhi, a friend of the family, was by then acting as a mentor to Sarabhai. Gandhi began a hunger strike on the workers' behalf, and the workers eventually obtained a 35 percent increase. During the time, Sarabhai organized daily mass meetings of the workers that Gandhi addressed. Following this, in 1920, the TLA was formed.
---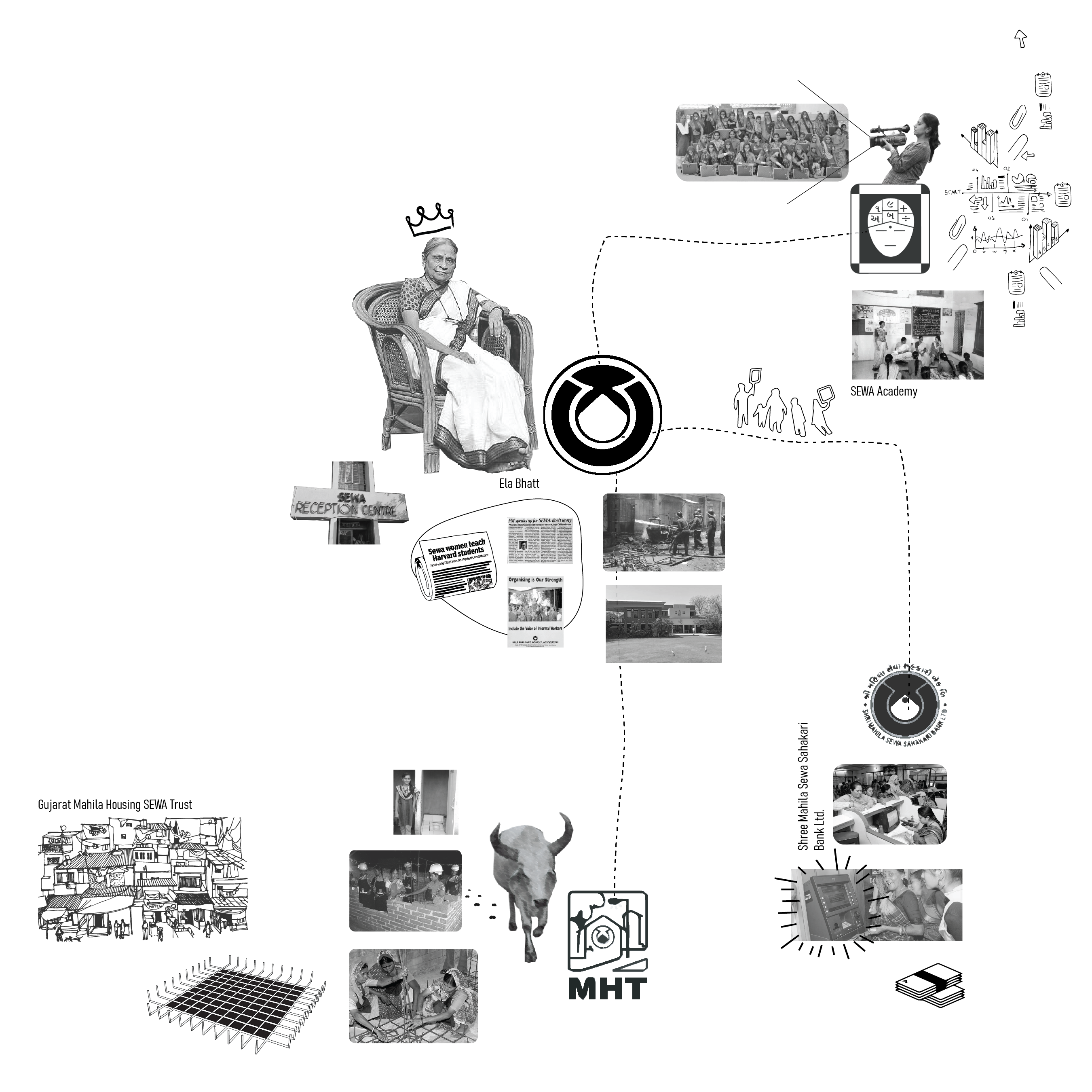 ︎ SELF EMPLOYED WOMEN'S ASSOCIATION [SEWA]

The Self Employed Women's Association [SEWA] is a trade union that was founded in 1972 by Dr. Ela Bhatt. It is an organization of poor, self-employed women workers who earn a living through their own labor or small businesses. They
do not obtain regular salaried
employment with welfare benefits like workers in the organized sector. These women are considered the unprotected
labour force of the country. In Ahmedabad, women workers remain uncounted, undercounted and invisible.

SEWA's main goals are to organize women workers for full employment, thereby ensuring work security, income security,
food security and social security in the hope that women can become autonomous and self-reliant, individually and collectively, both economically and in terms of their decision-making ability.
---



︎ ST. XAVIER'S SOCIAL SERVICE SOCIETY
[SXSSS]

St. Xavier's Social Service Society (SXSSS) is a charitable Jesuit organization founded in 1976 by Fr. Ramiro Erviti, S.J. Fr. Erviti, a teacher at Loyola School, along with other staff members through its Social Service League (SSL), a slum outreach program in the city.

The outreach program later took a formal shape giving birth to SXSSS, an organization working for poor and marginalized in the city of Ahmedabad and the state of Gujarat. St. Xavier's Social Service Society (SXSSS) always believed in the motto, "To help poor, to help themselves". The organization has been intervening in the lives of the poor over last 30 years. The organization operates in areas of education, health, environment, and community organization.

SXSSS helped train community leaders of the Manch on how to articulate their concerns surrounding the Sabarmati River Front Project, how to write petitions, how to organize demonstrations, and encouraged networking.